Oh how I have missed these Miscellany Monday's!
I have been forgetting to gather up some pictures for
this fun, little link up till now.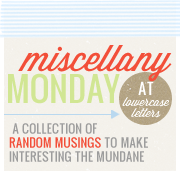 Sunday evening after the guys got done watching football...
we headed over to Mike's parents for a last minute bonfire.
I, of course couldn't resist getting the stuff for smores.
A bonfire without smores is like a
chicken sandwich without the chicken.
My kitchen smells heavenly...
heavenly like pumpkins.
I love this scent and along with my Fall decor
I finally put out...
the season has officially started now in our home.
I decided to post this picture for one reason...
I can never get a picture with this little guy.
He never sits still long enough for me to snap a picture.
Mums.
I love them.
This past weekend I decided to head to the salon and
get a pedicure and my nails done.
Because of the crazy busy workweek...
I deserved this!
And of course taking the risk of dropping your camera in the bath tub
just to show you a random picture of my feet...
is totally worth it when you blog, right?