...or more like a photo dump from over the weekend.
'eh...either way, it'll work.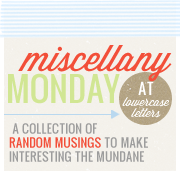 1} My very first give away ended today...
and I'm so excited to send it on it's merry way to the winner!
2} Yesterday I made this recipe on the back of the
potato bag. Let me just say I will be making them again.
3} Early Saturday evening my love and I are escaping reality
and heading to Florida.
I'm ready, and so excited.
4} I love this show.
I never watched it till my co worker friend gave me
seasons 1-3 to borrow.
The hubs and I are hooked.
We're about to start Season 2.
5} My honey showing his dad his new golf clubs...
in our living room.
6} The Chief's game.
Touchy subject with the hubs.
We don't discuss.
6} Part of my birthday gift from my bestie.
They sit in your vehicle's cup holders..
So cute and clever.
7} My baby boy, Buck...
when he's calm.
I love him.
8}...and finally, have I mentioned just how ready I am
for vacation?
{sigh}