Totally random...
and totally linking up!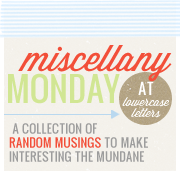 A typical Monday it was.
I got to work early...and had to work late.
Fun stuff.
However, I did do something I don't typically do after work.
I met my hubs at a local golf course and watched him play.
Have I ever mentioned just how handsome I think he is??
This evening I was dying for some Mexican food.
The hubs wasn't too crazy about the idea because of his tummy...
so instead I came home and made some baked potatoes with broccoli.
He placed him in a little cage
and fed him fish food.
Kinda cute, huh?
I think I am PMSing.
The past few nights I have gone to bed with a headache...
needing to take IBProfen..and right now,
I'm sitting here sweating when I know the air is running.
I picked up some new doggie treats for the puppies.
Low fat, low calorie treats.
Even pups have to watch their weight.
I'm off to bed now.
The fan and my fluffy down comforter are calling my name.
Maybe one night this week I will have a semi interesting post for ya!