I was thinking I'd link up with the awesome Carissa for......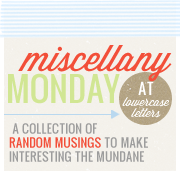 Today was a busy day at work.
Which I'm not complaining because when you're
there from 7:45 to 6 at night...
it makes it seem like it goes by just a tad bit faster.
I'm still praying for justice to be served in the trial of Casey Anthony.
A lot of evil is in this case, and I pray that
the Lord intervenes and that the truth will come out as
to what happened to this precious baby girl.
I made Chicken and Dumplings for dinner...
and I gotta say I wasn't impressed.
I don't think those will be a staple in this house.
They may not be Barbies, baby dolls or blocks that I find myself repeatedly
picking up....but I will say I have tripped and almost fallen
over plastic steaks, chewy snow men,
and peanut butter bones more than I can count.