Today's my favorite day in blog land because I just love linking up with Carissa for
Miscellany Monday
!
And something else I am so excited about...is my sweet friend,
Kristi
created her new blog...go check it out and give her some love! :)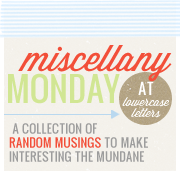 1.Our landscaping.
I really think it could look great if things were moved around
and placed differently. It's something we definitely want to do one day.
See that cute little butterfly stepping stone? My sweet sister made that for me.
I'm not too fond of the weather that has been
happening in our neck of the woods lately.
This was a picture I snapped on our way home from lunch
Sunday. The clouds were so low it looked as if we were going to
drive right in to them. Blue skies and sunshine, where art thou?
3. Seriously, babe? Seriously.
I know there are plenty of things I do that drive my husband crazy.
Like leaving the kitchen cabinets open after I'm done getting whatever I need out
of them...or my not so tidy passenger side seat.
But seriously...when one shaves his face, wipe the freaking whiskers up!
I'm tempted to do what my bestie did, and place them nicely in his toothbrush.
My hubs gave me the sweetest audio card for my birthday...
and I keep it at my desk at work for days when things
aren't going too great. I can open it up, and hear the cheesy fabulous
song that it plays. Oh how I

love

him.
5. Wednesday's appointment.
Wednesday I go for my Stress test and Echo exam. I'm really not nervous,
just ready to get it over with. Hopefully it won't last too long.
Speaking of appointments, my dad goes Friday for his double knee replacement surgery.
Thank you for all the prayers thus far...but please continue to pray.
6. Fabulous movie review.
I watched this movie on Sunday while the hubs was out golfing...
I loved it so much, I'm making my love watch it with me again.
Keeping up with the Jones'
becomes a reality in this movie.
Fabulous, fabulous, fabulous.