I'm
loving
all of these
fun
and
fabulous
linky's out in blog land!
Tonight I have decided to jump on
Carissa's
bandwagon and
participate in her....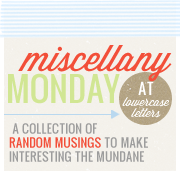 1.
Steel Magnolias
. Seriously, do I need to elaborate on one of the best Southern
classics of all time? I find myself on repeat while watching this movie. Laugh, cry, laugh, cry.
"I'm just tickled pink watching it right now."
I have to limit my in take of this place,
because if I look at it, it goes straight to my butt it's just that good.
This Cheeseburger joint originated in 1986 in Virginia
and now has over 750 locations across the U.s.
And get this, it is a known fact that there is over 250,000 possible ways to order a cheeseburger at this place.
Delicious.
3. I told you I was a crazy dog momma. And so is the hubs.
Except a crazy dog daddy.
But seriously, how can one deny this precious sight?
4. Saturday night, I'm attending the
Teller Banquet
my work is putting on.
I'm
really
excited
. I'm sure pictures will be posted at some point this weekend.
A good time shall be had
!